Mi Drop File Transfer from Android to Windows PC –There used to be only limited ways to transfer data from one device to another. There were only Bluetooth, infra-red and also cable to do the data transfer. As technology develops, there are more options we can use to transfer data. In here, we are going to focus on Mi Drop File Transfer from Android to Windows PC.
Mi Drop is an application developed by Xiaomi. As we know, Xiaomi in a Chinese mobile phone brand that has come to the fame after all the specifications and strength it offers. Not only for transferring files between mobile phones, we can also use Mi Drop to transfer files between PC and Android devices.
Xiaomi Mi Drop File Transfer Application
As previously explained, we can use Xiaomi Mi Drop for files or data transfer. Not only file transfer between smartphones, we can use Mi Drop to transfer file from Android to Windows PC. Even Mi Drop was firstly developed by Xiaomi and bundled with the release of MIU17 version, Mi Drop is not exclusively only for Xiaomi device. Rather than that, Mi Drop is now available in the Playstore which means it can be installed to other Android devices aside from Xiaomi.
Xiaomi Mi Drop Features
For the need of data or file transfer, Mi Drop is not limited to transfer file between Android devices only. Here are more features of the Mi Drop:
a. Friendly user interface. Some applications may have detailed interface which sometimes even cause confusion for the users. Unlike those kind of applications, Mi Drop has a friendly user interface which is convenient for the users.
b. There are many kinds of file that can be transferred using Mi Drop. Images, audio, video, APKs and many other kinds of file can be transferred using Mi Drop.
c. Faster file transfer. Compare to other file transfer applications, Mi Drop will transfer your file in a blink of an eye.
d. File transfer resume is possible. If you encounter interruption during the file transfer process, it is always possible to resume the process in Mi Drop.
Transferring File Using Mi Drop in Windows PC
To be able to use MiDrop in the Windows PC you will have to use the FTP to connect your PC to your Mi Drop.
1. First of all, you need to search the MI Drop application in the Google Play and install it in your Android smartphone. This has to be done if your Xiaomi smartphone is not using the MIUI 9+. Because for MIUI 9+ version is already equipped with the Mi Drop file transfer application.
2. After completing the above process, please connect your PC and smartphone to the same wifi. If the PC and smartphone are not connected to the same wifi, the file transfer cannot be done using the Mi Drop.
3. Open the Mi Drop application in your smartphone after the PC and smartphone are connected to the same wifi. Tap the drop down menu (three dots icon in the right corner of the Mi Drop interface), tap the "Connect to the computer". Please see below image: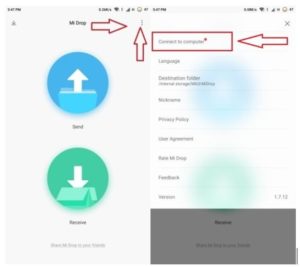 4. After that, tap the "Start" option in the bottom and then you will need to choose the storage location (Internal Memory or SD Card). Choose the storage location you want. FTP address will be given to you, remember or note this FTP address because it will be needed for the next step.
5. Open your computer file explorer. In here you will see the address bar at the top of the page. Type/input the FTP address you previously note from the previous step. Wait until the loading finish. After that, you will see the files you save in the smartphone. You can now copy/cut and paste the file you want. The file or data transfer can be done both from the smartphone to the PC and vice versa.
6. After finishing the file or data transfer, tap the "STOP" button in the bottom of the Mi Drop Application interface.
7. The FTP connection can also be set with password. This is for the sake of security connection reason. To set the password of the FTP connection, go to setting from "Connect to Computer" menu – Sign In Anonymously (turn OFF) – enter the user name and password you want – Save.
If you need video tutorial on how to install Xiaomi Mi Drop in Android or PC, please check below youtube video:
Conclusion
As now there are various options of mean for file transfer, Mi Drop is one of alternatives that can also be used. Considering its handiness and practical use, Xiaomi Mi Drop is one recommended application from a trusted developer that is helpful for file transfer purpose across platform. If you have anything to add regarding how to use Xiaomi Mi Drop to transfer file from Android to PC, please feel free to leave your comment below.